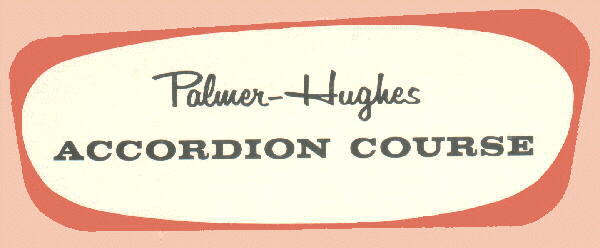 The Palmer-Hughes Accordion Course, for piano accordion, is still available from Alfred Publishing Co.
The Palmer Family. would like to thank all of our faithful customers who have visited our site and purchased products during the past years. We have decided to retire from active selling now, but we have enjoyed meeting all of you on the internet.

Bill Palmer (son of Dr. Willard A. Palmer, who wrote the Palmer-Hughes material) appears at several of the accordion events in the US and overseas to promote the material our father wrote.

If you would like to purchase one of our cassettes of the Concert Trio, featuring Bill Palmer, Bill Hughes and Len Manno, please click here.

For all of you who want to order books from us,
please read this carefully:

We do not have any accordion books.

None.

Zero.

Or Piano Books

Or Sheet Music

However, you can order it from Alfred Publishing Co.

NEW!!!!

Bill Palmer* finds the accordion he has been looking for! *Not the guy who wrote the Palmer-Hughes Accordion course, but his son!
Bill Palmer with his Roland FR-7x MIDI Accordion at
Houston Accordion Performers in Pasadena, Texas.

Here's what Bill has to say about this instrument:
It's a pity that my father did not live to see this instrument. The last instrument he had was built with a MIDI interface, but it really didn't work well. So he played it acoustically. He always thought that the accordion would be the ideal MIDI controller.

I was the founder and leader of the HAL-PC MIDI special interest group. This instrument has incredible potential. It sounds just like an accordion -- ANY accordion. It has no reeds to go out of tune, unless you want to tune it like a musette accordion. It's about 1/3 lighter than a regular accordion.

I LOVE IT!!!


Bill's wife, Julie plays the banjo quite well. For an interesting duet with Bill and Julie, see The Duel.


If you like the accordion, visit the Facebook page of the Greater American Accordion Society,




If you wish to order accordion books click here.
It is the web site of House of Musical Traditions.